In 1854 Andreas Papadopoulos Vretos published a book called "Νεοελληνική φιλολογία, κατάλογος των απο πτώσεως της Βυζαντινής αυτοκρατορίας μέχρι εγκαθιδρύσεως της εν Ελλάδι Βασιλείας τυπωθέντων βιβλίων παρ' Ελλήνων εις την ομιλουμενην, η εις την αρχαίαν Ελληνικής γλώσσαν" (trans. "Greek philology, list of the published books from Greeks either in modern Greek or in ancient Greek language, counting from the fall of Byzantine empire until the establishment of the Greek kingdom")
In the list of eminent Greek writers in the book of Vretos, there are several Greek scholars originating from Macedonia and among them intellectuals like Anastasios Polyzoidis (minister of internal affairs in the first Greek government of King Othon), Konstantinos Mpelios and professors teaching in the best universities of Europe like Athanasios Stageiritis.
Some of the names of the eminent Macedonian scholars followed with their brief biographies are:
– Polyzoidis Athanasios (19th cent)

– Athanasios Stageiritis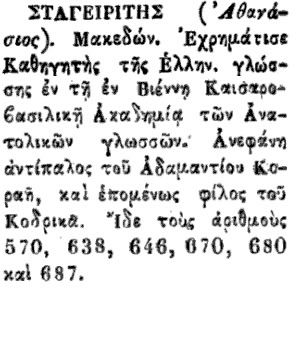 – Konstantinos Mpelios (17th cent)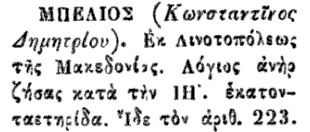 – Ioannis Emmanouel (17th cent.)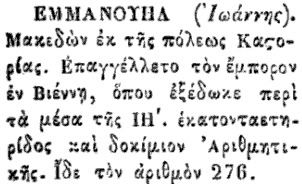 – Anastasios Michael
– Ioannis Nikolaidis (end of 17th century)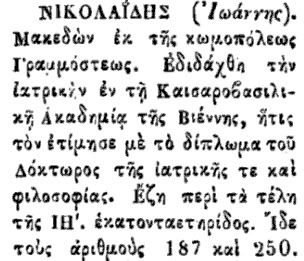 The following two tabs change content below.