One text from Hippolytus_of_Rome, author of the first centuries AC and…a saint.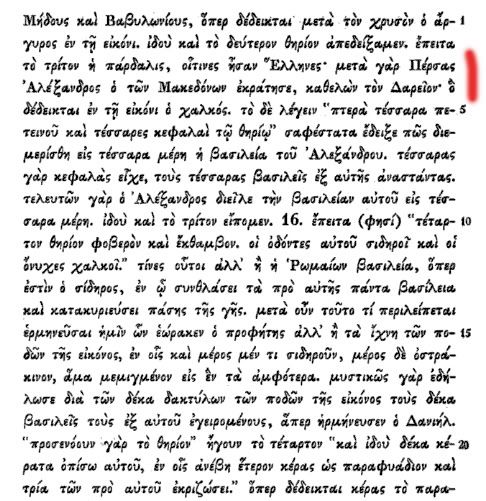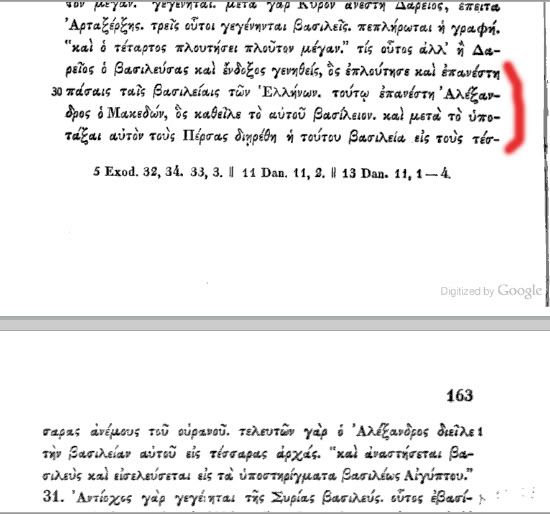 Its translation in English
HIPPOLYTUS OF ROME TREATISE ON CHRIST AND ANTICHRIST.
Quote:

24.
Then, after the lioness, he sees a "second beast like a bear," and that denoted the Persians.

For after the Babylonians, the Persians held the sovereign power And in saving that there were "three ribs in the mouth of it," he pointed to three nations, viz., the Persians, and the Medes, and the Babylonians; which were also represented on the image by the silver after the gold. Then (there was) "the third beast, a leopard," which meant the Greeks.

For after the Persians, Alexander of Macedon obtained the sovereign power on subverting Darius, as is also shown by the brass on the image. And in saying that it had "four wings of a fowl," he taught us most clearly how the kingdom of Alexander was partitioned. For in speaking of "four heads," he made mention of four kings, viz., those who arose out of that (kingdom).

For Alexander, when dying, partitioned out his kingdom into four divisions

.

Quote:
28. The golden head of the image and the lioness denoted the Babylonians; the shoulders and arms of silver, and the bear, represented the Persians and Medes; the belly and thighs of brass, and the leopard, meant the Greeks, who held the sovereignty from Alexander's time; the legs of iron, and the beast dreadful and terrible, expressed the Romans, who hold the sovereignty at present;
The following two tabs change content below.