Recently a new attempt from FYROM's propaganda machine was made to prove triumphantly the existence of "Macedonian language" from an 'original document', as the propagandists claimed of 1915. 
The so-called "original greek document which contradicted Athens" was published by a newspaper in FYROM while "Translated and edited" (lol!) by…who else…Risto Stefov.
Of course the new "amazing discovery" was spread in the net through the usual propagandistic FYROM sites.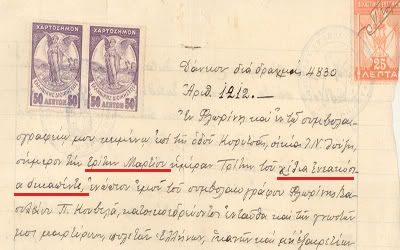 I noticed the two (???) parts of the "original document" (see above) and could hardly kept myself from laughing with the inherent imbecibility these propagandists carry.
Aside of the quite clearly differences, even in the pen, way or writing between the two parts, in the so-called "original document' the first part contains the phrase in Greek:
"σήμερα Τρίτη Μαρτίου, ημέρα Τρίτη, χίλια εννιακόσια δεκαπέντε"" (transl: today 3rd March, Tuesday, 1915″
while in the second part of this "original" document the date is comically…quite different!!!
"6 Μαρτίου, 19(1?)5" (transl: 6 March, 19(1?)5).
Conclusion: The entire pathetic attempt of FYROM propagandists to construct a new forgery proved to be quite ineffectual, not to mention fatuous and comes to prove for once more FYROM's pitiful propaganda is not going to stop in the near future but will keep up creating such an embarrassing collection of ludicrous fabrications.
Related posts:
The following two tabs change content below.