Count Nikolay Pavlovich Ignatieff: The man responsible for the beginning of the 'Macedonian Question' that we are seeing today.
The following is from pg. 27 of the book ' 'Macedonian Things' and 'Irredentist Things' ' by Chysostomos Papastavros, published in 2008 by the Local Community of Mavrochorio, Kastoria. It is a table of the 4 Irredentist Pan-Slavic Plans for Greece. Throughout history, and with Russian backing, Bulgaria, Yugoslavia, and now FYROM have each had their agendas for Macedonia.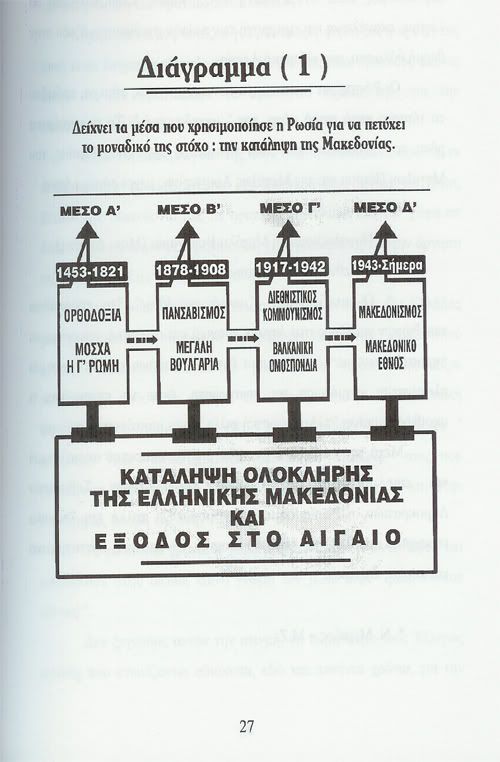 I. 1453 – 1821: The Greek Peninsula is under the Ottoman Turk Rule. Constantinople or 'Second Rome' falls to the Turks. Russia tries to help the Greeks for her own interests to get to the Aegean. It presents itself as the 'Third Rome' and self declares as the protector and new leader of Orthodox Christianity. Once Greece declares independence and asks for support from France and Great Britain, Russia turns to the Bulgarians to achieve the goal of getting to the Aegean.

II. 1878 – 1908: Russian ambassador to the Sublime Porte, Count Nikolay Pavlovich Ignatieff, gets orders from the Russian Tsar to create the Bulgarian Exarchy, and raise the Bulgarian population in Macedonia. All this to force Turkey to cede the Southern Balkans to Bulgaria. The Treaty of San Stefano tried to achieve this under the false pretence that the majority of the population in Macedonia was Bulgarian and not Greek. Europe did not allow this to happen. The Bulgarian and Greek Struggle for Macedonia begins and ends with the complete retreat of Bulgaria from Greek soil. In 1912, Macedonia is freed from Turkey and declares unity with Greece.

III. 1917 – 1942: Bulgaria supports Fascist Italy and Nazi Germany and expects to get Macedonia as reward. Bulgaria again occupies northern Greece during both World Wars. Once the Axis falls, Russia again tries to get to the Aegean through Communism with an idea for a Communist Balkan Alliance or 'Switzerland of the Balkans' called 'Macedonia'.

IV. 1943 – Present: Russian leader Stalin, with Yugoslav leader Tito create 'The People's Republic of Macedonia' out of Vardarska Banovina in South Yugoslavia and support Greek communist guerillas in Greek Macedonia. They abduct 28 000 Greek children to re-educate them and use them as fighters against Greece. The Greek Civil War ends with the communist defeat. Many Greek and Yugoslav fighters flee into the Iron Curtain and take their families with them. OFFICIAL COMMUNIST-SPONSORED AND (SINCE 1991 WHEN YUGOSLAVIA BREAKS UP) NATIONALIST MACEDONISM CONTINUES
The Times of London Intelligence Reports on The Preliminary Treaty of San Stefano (February 19, March 9, and March 23, 1878). It is very clear from these reports that Great Britain DID NOT agree with the idea of a Greater Bulgaria and points out all the Russian and Bulgarian plans for Greece. THE IMPORTANT THING TO NOTE IS THAT THERE WERE NO 'ETHNIC' MACEDONIANS REFERRED TO ANYWHERE!!! It is clear that the population of the region of Macedonia was Greek, Bulgarian, Turk, and Albanian.
LONDON TIMES
19 FEBRUARY 1878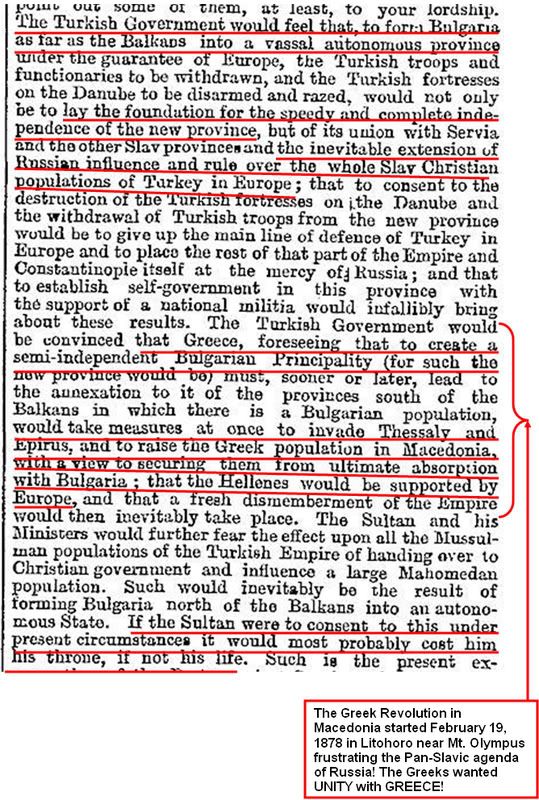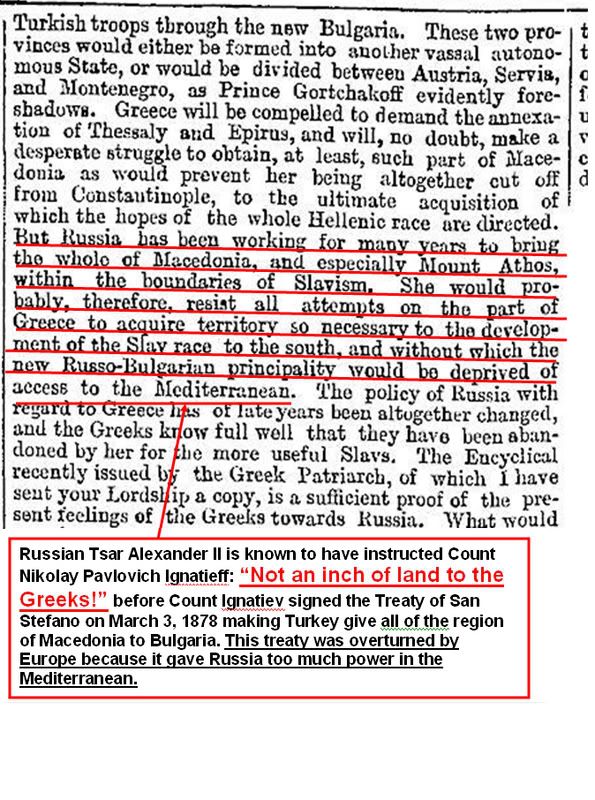 9 MARCH 1878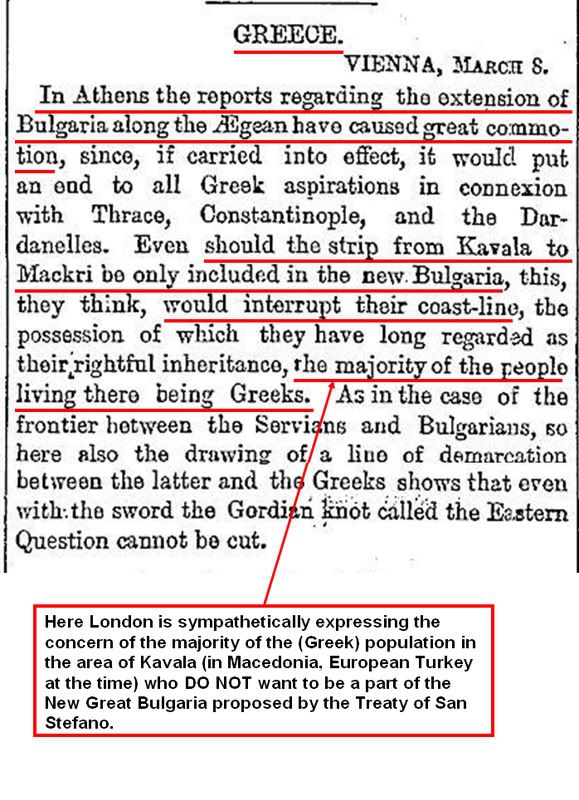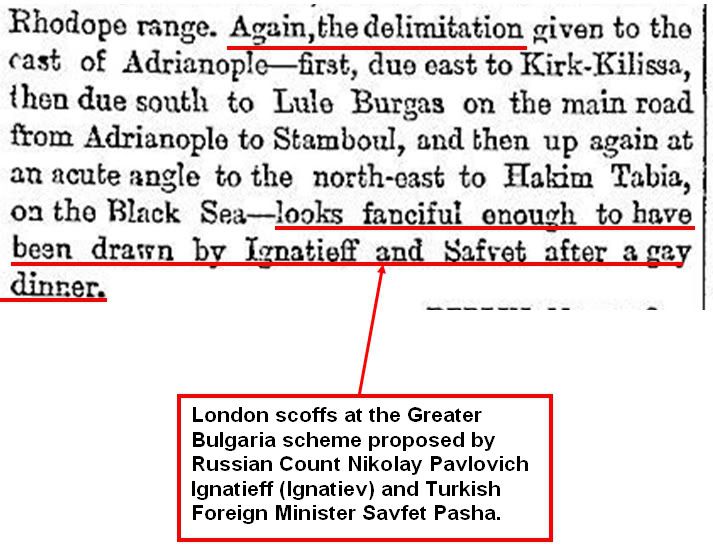 23 MARCH 1878
Related posts:
Want more of this? See these Posts: