SS MAKEDONIA, painted 1912, by Ar. Glykas (compare with No. 14).
This "closed-base" passenger liner was one of the first Greek Transatlantic emigrant ships, and one of the first steamers built for a Greek shipping line, in 1912, by Sir James Laing and Sons, Ltd., at Sunderland, England.
She was of 6.333 tons grt, 422 ft (129 m) long, 51 ft (15,5 m) wide, with 2 masts, 2 funnels, and twin screws, driven at 17 knots by her quadruple-expansion reciprocating steam engines.
She was requisitioned in late 1912 as an armed transport, shelled by the Turkish battleship Hamidie, and sunk off Syros. Refloated and repaired, she was sold to the Netherlands in 1915 and scrapped in 1932. 
Besides passenger accommodation, SS Makedonia had 4 hatches and holds for freight; her cargo booms are shown in raised position for loading or dicharging cargo. She has a wireless antenna and modern stockless anchor.
In foreground, the early 20th century Greek Navy destroyer is a pictorial allusion to SS Makedonia's wartime role in the Ist Balkan War, as are the guns on the forecastle and after deck of this passenger ship.
Α/Π ΜΑΚΕΔΟΝΙΑ, 1912. Έργο Αριστείδη Γλύκα (πρβλ. με αρ. 14).
Αυτό το επιβατηγό γραμμής τύπου «closed-base» ήταν ένα από τα πρώτα ελληνικά υπερωκεάνια μεταναστών και ένα από τα πρώτα ατμόπλοια που ναυπηγήθηκαν για ελληνική ναυτιλιακή γραμμή το 1912 από την εταιρεία Sir James Laing and Sons, στο Sunderland της Αγγλίας.
Είχε χωρητικότητα 6.333 τόνους γκρος, μήκος 422 πόδια (129 μ.) και πλάτος 51 πόδια (15,5 μ.). Διέθετε δύο ιστούς, δύο τσιμινιέρες, διπλές προπέλες και έπλεε με ταχύτητα 17 κόμβων με τη βοήθεια παλινδρομικών μηχανών ατμού τετραπλής διαστολής.
 Στα τέλη του 1912 επιτάχθηκε ως οπλισμένο οπλιταγωγό πλοίο, βομβαρδίστηκε από το τουρκικό θωρηκτό Hamidie και βυθίστηκε κοντά στη Σύρο. Αφού ανασύρθηκε και επισκευάστηκε, πωλήθηκε το 1915 στην Ολλανδία και το 1932 διαλύθηκε. 
Εκτός από τα καταλύματα των επιβατών, το Α/Π Μακεδονία έχει τέσσερα αμπάρια για το φορτίο ενώ οι μπίγες του εμφανίζονται σε υψωμένη θέση φορτοεκφόρτωσης. Στο πλοίο υπάρχει κεραία ασυρμάτου και σύγχρονη άγκυρα χωρίς στύπο. 
Το αντιτορπιλικό του Ελληνικού Πολεμικού Ναυτικού των αρχών του 20ού αι. καθώς και τα κανόνια στο κατάστρωμα του επιβατικού πλοίου αποτελούν εικονογραφική αναφορά του ρόλου που διαδραμάτισε το Α/Π Μακεδονία κατά τη διάρκεια του Α΄ Βαλκανικού Πολέμου.
Source: NauticalMuseum.com
Newspaper "EMPROS" 3rd, January 1913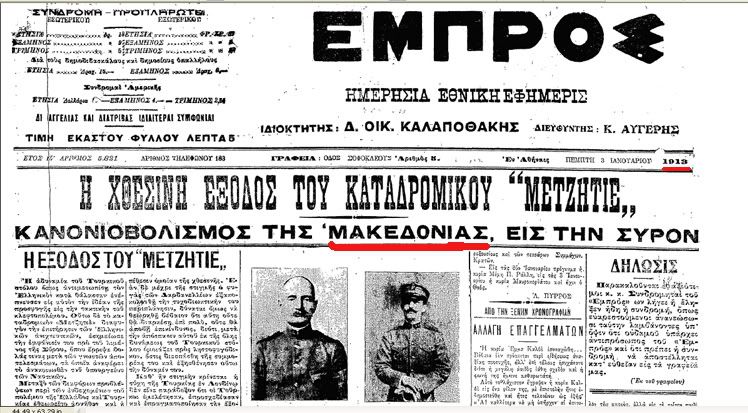 According to the illusions of Skopjan propagandists, the name "Makedonia" in Greece was…forbidden.
Related posts:
The following two tabs change content below.