KINGS of MACEDON. Alexander III 'the Great'. 336-323 B BC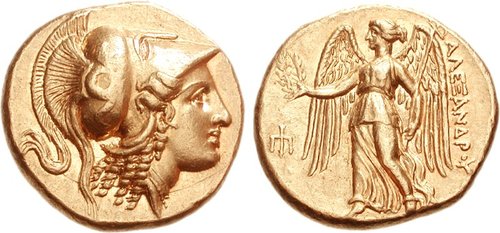 | | |
| --- | --- |
| Sale: Triton XII, Lot: 175. Closing Date: Monday, 5 January 2009. | Estimate $75000 Sold For $60000 |
KINGS of MACEDON. Alexander III 'the Great'. 336-323 BC. AV Distater (17.24 g, 7h).

'Amphipolis' mint.

Struck under Antipater, Polyperchon, or Kassander, circa 323-316 BC. Head of Athena right, wearing single-pendant earring, necklace, and crested Corinthian helmet decorated with serpent /

AΛEΞANΔPOY,

Nike alighting left, holding wreath in extended right hand and cradling stylis in left arm; in left field, trident head downward. Price 171; Troxell, Studies, group C, 543 (dies DO1/DT1) = Paeonia hoard II 140 (this coin); SNG München -; SNG Alpha Bank -; SNG Saroglos -. Superb EF, characteristic slight die break under
Athena's chin

. Extremely rare, one of four known from this issue.
Ex Numismatic Fine Arts I (20 March 1975), lot 82; the Extremely Important Greek Hoard [Paeonian Hoard] (Parke-Bernet, 9 December 1969), lot 140; Paeonia 1968 Hoard (IGCH 410; CH I, 40).

Alexander's distaters were the heaviest gold coins produced by the Greeks up to that time. Troxell identified three separate groups of distater issues, the first two of which, Groups A and B, were either struck concurrently at different Macedonian mints, or sequentially at the primary Macedonian mint. Group C, she noted, was a later group, probably just after Alexander's lifetime, that revived the markings from Group A, kantharos, trident, and fulmen. This group is only known from 18 coins (Troxell only identified 17), and, by virtue of die links, was obviously a very small, concentrated output that must have been undertaken for a very specific purpose. By virtue of their date of striking, it is possible that the Group C distaters were struck by one of the Macedonian diadochs, Antipater, Polyperchon, or Kassander, to secure the loyalty of other senior commanders or communities within their sphere of influence.

A significant feature of group C is the presence of an unusually artistic representation of Nike that breaks tradition. Of the seven reverse dies known in this group, four are of the standard representation, paralleling the staters: Nike stands upon a ground line, with her left leg slightly bent forward, and her chiton falls straight to the ground. The other three dies, one of which was used to strike the present coin, take a new approach, displaying her feet dangling below her, as if she were alighting from the sky. The fluidity of her motion is emphasized by the folds of her chiton, billowing as if blown by the wind as she is propelled forward in flight. One of these three dies retains the ground line (cf. SNG Berry 135), while the others forego it, preferring to display Nike fully suspended in the air. The visual cues are stunning in their beauty, and transform the staid figure of the standing Nike type into a spirited and vigorous figure in motion, which finds a modern parallel in the famous walking Liberty of the Saint-Gaudens double-eagle.

Of the three varieties in Group C, this trident variety is the rarest, with only four known, struck from two obverse and one reverse dies. (For the other three coins, see Paeonia Hoard II 141; B. Feirstein Collection [Part I, Numismatica Ars Classica 39, 16 May 2007], lot 25 = Berk 98, no. 8; and the Millennia Collection [Goldberg 46, 26 May 2008], lot 19).
Classical Numismatic Group, Inc
Related posts:
The following two tabs change content below.
Latest posts by Antiochos (see all)