SELEUKID KINGS of SYRIA. Seleukos I Nikator. 312-281 BC. Tetradrachm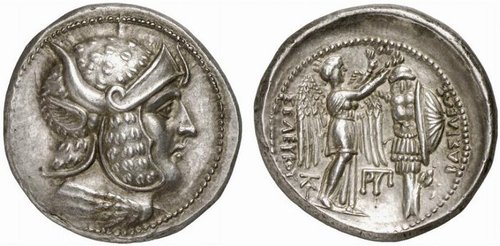 | | |
| --- | --- |
| Sale: Nomos 1, Lot: 117. Closing Date: Tuesday, 5 May 2009. |   BID Estimate CHF50000  |
SELEUKID KINGS of SYRIA. Seleukos I Nikator. 312-281 BC. Tetradrachm (17.06 g 3), Susa, circa 304-298/7.

Bust of Alexander the Great as Dionysos

to right, wearing helmet covered with a panther skin and adorned with a bull's horn and ear, and with a panther skin tied around his shoulders Rev.

ΒΑΣΙΛΕΩΣ ΣΕΛΕΥΚΟΥ

Nike walking to right, placing wreath on trophy of arms to right; to left and right of Nike, monogram. CSE 1023. ESM 426. Kraay/Hirmer 740. SC 173.4. A magnificent example, beautifully toned and one of the finest examples of this coinage known. Virtually as struck.
From the Spina collection, ex Leu 81, 16 May 2001, 323.
Alexander the Great appears on this coin with some of the attributes of Dionysos, as part of a complex program of imagery that served to identify the conquests of Alexander in India with the god's own legendary conquests there. The portrait also was meant to remind users of the coin that Seleukos had repeated Alexander's conquests through his defeat of Chandragupta in 304.
Classical Numismatic Group, Inc.
Related posts:
The following two tabs change content below.
Latest posts by Antiochos (see all)