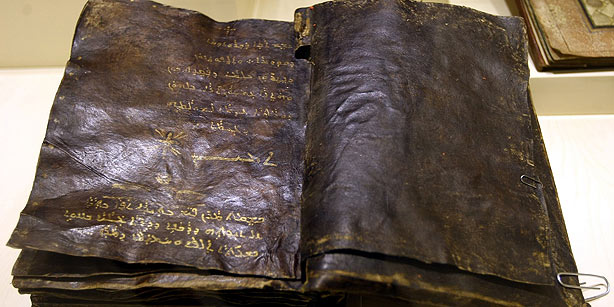 …όπως επίσης και η απύθμενη βλακεία Τούρκων και λοιπών εγχώριων φρούτων που το διαφημίζουν τις 2 τελευταίες ημέρες.
Διαβάσαμε σε γνωστή Ιστοσελίδα :
Η είδηση αυτή που συγκλονίζει τον χριστιανικό αλλά και ισλαμικό κόσμο μεταδίδεται ήδη από δεκάδες τουρκικά και ιρανικά μέσα ενημέρωσης, τα οποία επιμένουν με συγκεκριμένα στοιχεία ότι Τούρκοι αξιωματικοί στην Κατεχόμενη Κύπρο ανακάλυψαν το επονομαζόμενο «Ευαγγέλιο του Βαρνάβα», το οποίο είναι γραμμένο στα αραμαϊκά, τη γλώσσα του Ιησού.
Κάποιος να πει στο παλικάρι η είδηση που ανακάλυψε να 'συγκλονίζει τον χριστιανικό και ισλαμικό κόσμο' παίζει στο διαδίκτυο αρκετά χρόνια, πχ δημοσίευμα του Reuters από το 2009
Ειδικοί που ασχολήθηκαν με την είδηση που απειλεί να καταστρέψει τον χριστιανισμό (και ποιός ξέρει τι άλλο) παρατηρούν:
1. Not-a-1500 Year Old Bible in Turkey (Timothy Michael Law)
I just spoke with my colleague about this, and after both of us have had the chance to look at it we concur it is impossible this is a 1500 year old Bible. What could be really funny is that at the bottom it appears to read something like 1500 AD. It is admittedly tough to read, but it would quite a mistake to claim it is 1500 years old when it was produced in 1500. This date would also conform to what most scholarship believes anyway, that this gospel was produced around this time.

Another colleague just wrote:

Another modern fake, I'm afraid – hence the gold ink, and the uncured skins. (Forgers are obsessed with using skins instead of vellum or paper.)For once the forger seems to know some Syriac, but not very well. Not sure about the last date –  looks like 1500 of 'our Lord', which is itself very dubious!
2. The '1,500' Year Old 'Bible' and Muslim Propaganda (Peter BetBasoo and Ashur Giwargis)
Most significantly, this writing is in Modern Assyrian, which was standardized in the 1840s. The first bible in Modern Assyrian was produced in 1848. If this book were written in 1500 A.D. it should have been written in Classical Assyrian.
It is highly unlikely for monks to make such elementary mistakes. It remains to be seen whether this book is a forgery, or even what kind of book it is.

The bottom inscription also says the book was written in 1500 A.D.. If the book does contain verses predicting the coming of Muhammad, it is no great accomplishment to predict something 870 years after the fact, since Muhammad founded Islam in 630 A.D
3. The antique Syriac Bible (P.J. Williams)
The pointed Nestorian script is the giveaway that we're not dealing with something 1,500 years old. 

It is puzzling that if the end of Matthew is on the left hand page, the right hand page should be blank. Also with only two verses appearing on this page of Matthew (28:19-20) there is certainly no way this manuscript has enough pages to contain the four gospels and no way that the whole of Matthew could occur to the right. Moreover, it's odd that all the writing is grouped on the right hand side of the page. These are features which would make me think of it as a modern forgery. Why go to the effort of using gold and yet have the appearance on the page so irregular and the margins so uneven?

Possible arguments in favour of forgery could be failure to distinguish beth and kaph; the angle of the nun in 'year', the page layout, the line spacing, the gold, the criminal context, the release with such hype. This sort of thing could happen when someone is copying a text without really knowing the language. 
Related posts:
Latest posts by Airetikos (see all)
Want more of this? See these Posts: