Ancient Pydna lies in north Pieria, to the south of Makrygialos. The first settlement of the region, one of the most extensive settlements of the Late Neolithic period, is located to the south west of Makrygialos. The settlement presents two phases, one pre-Diminian. covering an area of approximately 75 acres and bounded by a trench system, and another contemporary with the period of Dlmini. In the Bronze Age the settlement is transferred about 1500 m. south-east on the Thermaikos coast, where, due to the sea erosion, only a small part of the tumulus has survived. In the Early Iron Age the settlement also extends around the tumulus, while later it obtains its maximum expansion: bounded by a trench, it covers an area of over 50 acres, while during the Archaic period, due to colonization, it diminishes considerably.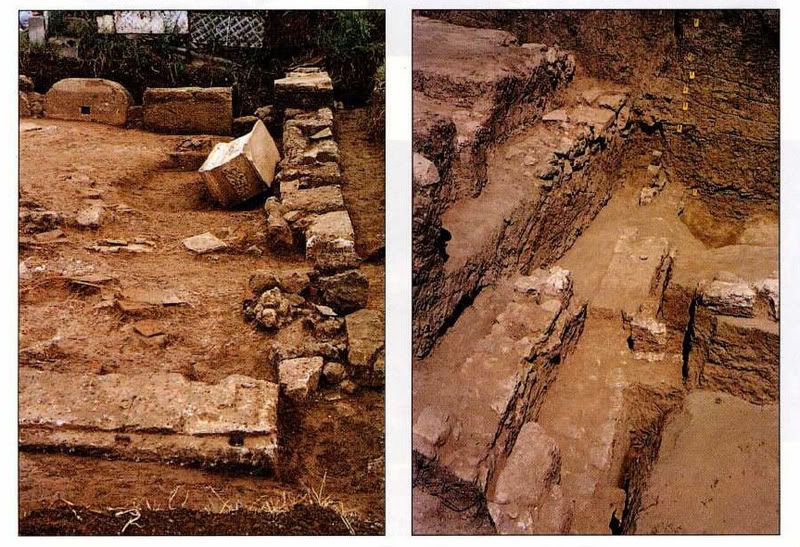 (Photos – 'Archaeologia' Magazine)
 Pydna culminates in the fifth century B.C.: in the years of Alexander I (498-45) it expands even further, covering of over 62 acres, a unique size in the Macedonian kingdom of which Pydna is the major port. Its defection and defeat by Archelaos (413-399) temporarily halted its prosperity. Archelaos, after a long besiege managed to bend Pydnaeans with outcome their surrender. After their surrender, Archelaos transferred the Pydnaeans to the hinterland, but they soon came back and for a certain period enjoying autonomy – in the meantime timotheos had captured Pydna in 364 B.C. – until 357 B.C., when Philip resubmits the city to the Macedonian sphere of influence. The rise of Pydna continues in the Hellenistic years when it becomes the main urban center of north Pieria. After the battle of Pydna in 168 B.C. the historical role of the town is considerably diminished. However, during the byzantine era Pydna prospers once again though under another name, Kitros, and becomes the seat of an episcope. The coastal settlement is finally abandoned in the 15th century after the Turkish conquest.
By Archaeologist Manthos Bessios
"Archaeologia" Magazine, vol. June 1997
Related posts:
The following two tabs change content below.
Tags:
alexander
,
Archaeology
,
archelaus
,
bessios
,
cities
,
kitros
,
macedonian
,
makrygialos
,
olympias
,
philip
,
pydna
,
settlements