THE RELATIONSHIP OF GREEKS TO SUB-SAHARAN AFRICANS?
An Analysis of Hate and Racism Coming from Skopjeans;
The Arnaiz-Villena Theory:
Another Skopjean Myth Exposed and Explained
Over the last few years there has been a great deal of historical revision stemming from Skopje's need to legitimize it's state's place in the society of nations. As FYROM's first Foreign Minister stated on Greek television MEGA in November 1996:
"In the Balkans, to be recognized as a nation you need to have a history of 2.000 to 3.000 years old. Since, therefore, you made us invent a history, WE INVENTED IT!!"
However, an even uglier trend among Skopjeans and their sympathizers is the idea of negating Greece's legitimacy to not only Greek history, but Greece's legitimacy to it's citizens' dignity as human beings. Using pseudoscience and theories reminiscent of Hitler's and Goebbels's ideas about a blond blue-eyed Aryan nation, they fill the internet with hate and lies aimed at Greeks who they now call "black" and "African". Furthermore, they claim that Greeks could not be related to Ancient Macedonians because the Ancient Macedonians were not black. Even more shocking is the theory that Ancient Macedonians are directly related to the citizens of FYROM because they both are supposedly blonder than the Greeks. This is of course ridiculous as the citizens of FYROM are not blonder or taller than their southern neighbors the Greeks. Somehow they think that by calling Greeks "African" it is shameful to Greeks. It is clear that it is Skopjean propagandists that think blacks are inferior to whites otherwise they would not be promoting such racist propaganda. This disturbing trend is becoming louder over the web and has gained semi-official status in Skopje and its diaspora. Slowly but surely Greeks are "dark-skinned", and "homosexuals", and an inferior race. In a twist of nationalist hysteria, Skopjean propagandists call Greeks "fascists" and "Nazi racists" because they view Greece's opposition to their adoption of the Greek name "Macedonia" and their appropriation of Greek history as their own as simply chauvinistic and ultimately racist. They also feel that a huge wrong has been done to them claiming that Greeks have always oppressed "ethnic Macedonians".
Here are some examples of hate messages posted by Skopjeans and their diaspora on Internet forums:
"WHEN A GREEK LOOKS IN THE MIRROR…
THEY SEE…??
UGLINESS…
DARK FEATURES..
DRESS LIKE AN ALBANIAN
SPEAK LIKE A TURK..
AND HAVE THOUGHTS OF HAVING SEX WITH
MINORS
BOYS
ANIMALS
AND YOUR OWN MOTHER..
SO WHEN YOU DO SEE YOUR SELF WHAT DO YOU SAY..
I'M "GREEK"
EXACTLY..
MIXED BREED
CROSSED BREED
THIEF
LIAR
BRAINWASHED
LOSER
PEDER
PAEDOPHILE
FROM TURKEY AND ETHIOPIA WITH STOLEN HISTORY…
TAKE A MINUTE TO THINK ABOUT IT..
BE PROUD BE GREEK… "
"Macedonia is Macedonian.
Everybody HATES the Ethiopian gayreeks."
"The Greeks have a long boisterous history of homosexuality, pedafilia [sic] and bestiality. That is a history to be proud of!"
                                                                                    grikos homosexolopoulos
Where and when did all of this start? Starting in 2001, Antonio Arnaiz-Villena, a Spanish geneticist, published three papers claiming that modern Greeks are closely related to Ethiopians, but modern "Macedonians" are one of the oldest peoples in Europe closely related to Basques and therefore descendants of Alexander the Great. He and his team (including K. Dimitrovski, M. Blagoevska, and V. Zdravkovska from the Institute of Blood Transfusion in Skopje) conveniently used one gene to link Greeks to Ethiopians and "ethnic Macedonians" to other Europeans. The first paper was published in an obscure genetics journal called Tissue Antigens in 2001, and the second paper (which was an explanatory paper of the first hypothesis) was published in the same journal in 2002. The third paper which was initially published in the journal Human Immunology was eventually withdrawn because it dealt with the politics of the Middle East and involved an analysis of Jewish and Palestinian DNA as well.
As a scientist, I am appalled and I do not consider myself a colleague of these individuals because they have cleverly used science as a cloak of hatred against Greeks. Politics and medicine/science last mixed during the reign of the Nazis.
Let's analyze the 2 first papers: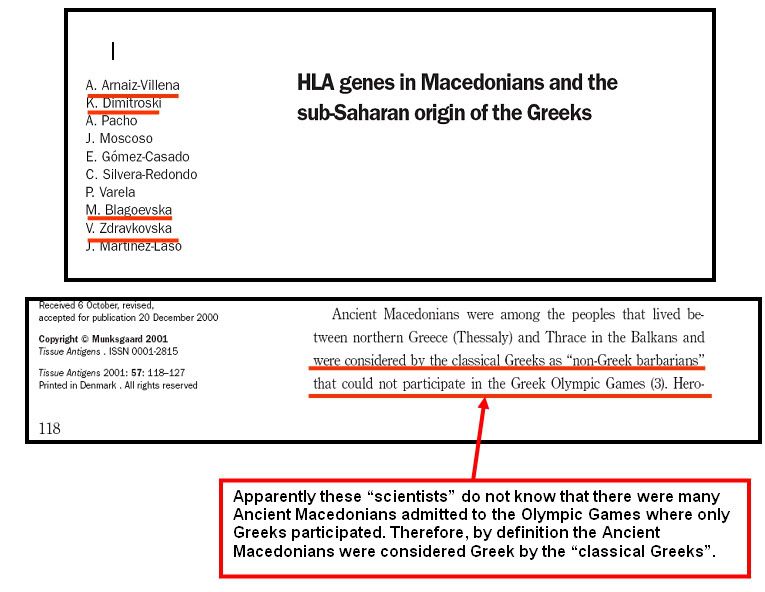 They further go on to quote Herodotus of all people and claim that he said, "Dorians (Macedonians) were not considered Greek"!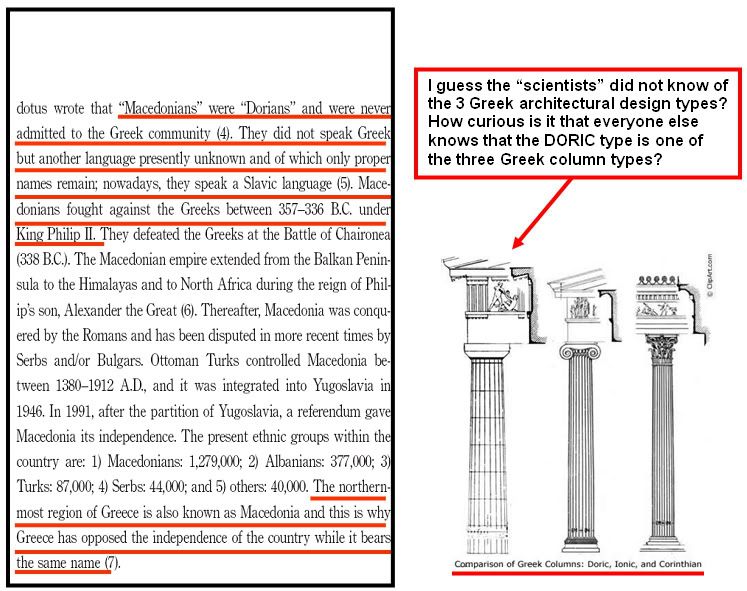 In fact the complete opposite is true. Herodotus repeatedly has written about the Greekness of Ancient Macedonians. In his work Histories, he writes of the Greeks: "… those who dwell in our land are called Ionians, Aeolians and Dorians." Herodotus also explains how Alexander I of Macedonia was Greek and was eventually admitted to the Olympic Games:
"

Men of Athens, had I not greatly at heart the common welfare of Hellas I should not have come to tell you; but I am myself Hellene by descent, and I would not willingly see Hellas exchange freedom for slavery.
If you prosper in this war, forget not to do something for my freedom; consider the risk I have run, out of zeal for the Hellenic cause, to acquaint you with what Mardonius intends, and to save you from being surprised by the barbarians. I am Alexander of Macedon. " (Histories, 9.45)
When Alexander I attempted to compete at Olympia, Herodotus relates how "the Greeks who were to run against him wanted to bar him from the race, saying that the contest should be for Greeks and not for foreigners. Alexander, however, proving himself to be an Argive, was judged [by the officials] to be a Greek." (Histories, 5:22)
For further quotes from Herodotus, please visit Ancient writers about Macedonia – Herodotus
Further in the paper, they discuss their findings and start hypothesizing how Greeks could be related to sub-Saharan Africans:And apparently, according to their revisionist view of history, the migrating Ethiopians skipped over Crete so they didn't "admix", as they call it, with Cretans and settled directly in all of Greece sparing ALL other Mediterranean areas.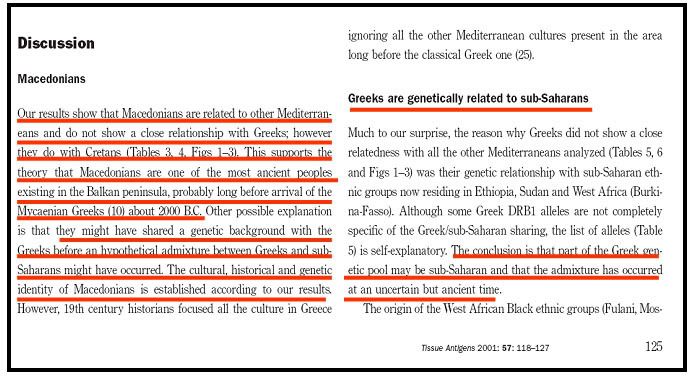 The following is their theory along with a map showing this supposed migration (from the second paper):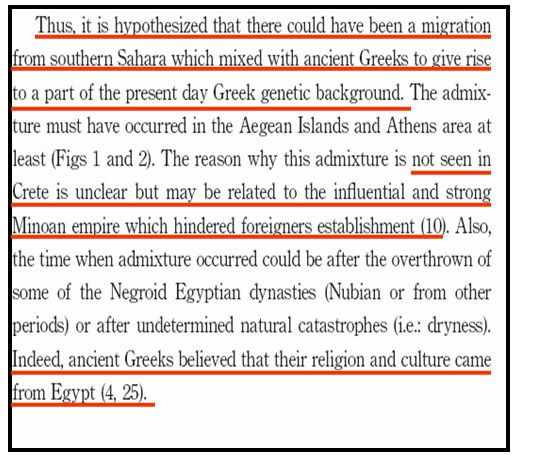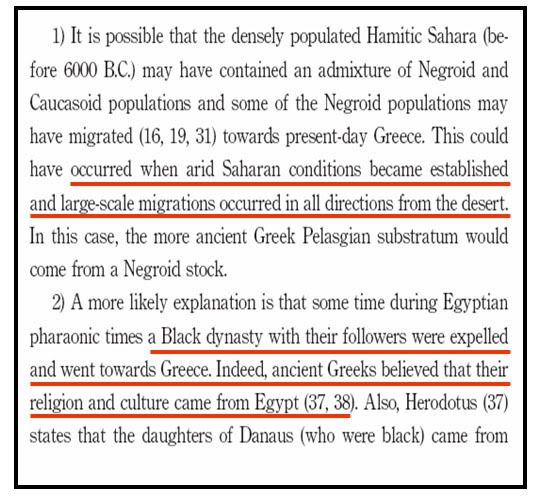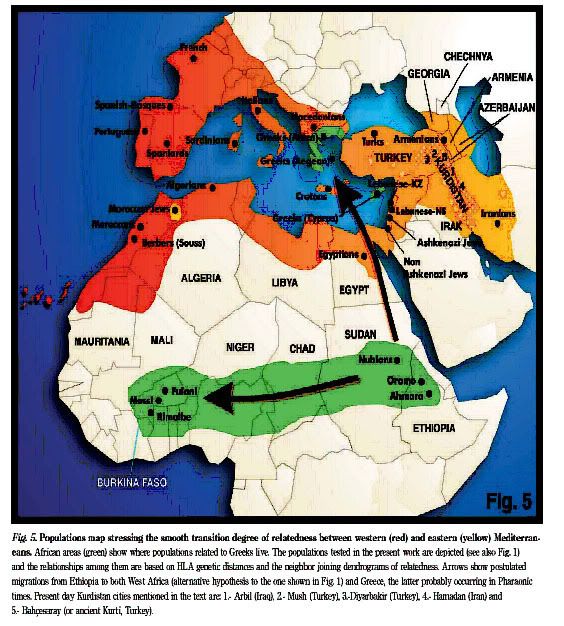 Notice on this map (above), how the Ethiopians "flew" over Crete to land directly in Greece.
TO BE CONTINUED!!
The following two tabs change content below.