PTOLEMAIC KINGS of EGYPT. Ptolemy III Euergetes. 246-222 BC. AV Oktodrachm
Choice Ptolemaic Oktadrachm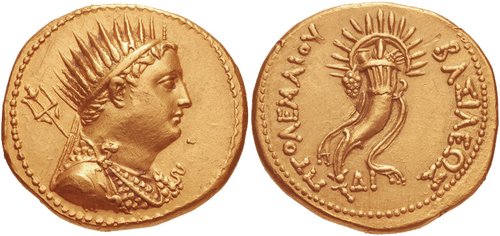 PTOLEMAIC KINGS of EGYPT. Ptolemy III Euergetes. 246-222 BC. AV Oktodrachm (27mm, 27.72 g, 12h). Alexandreia mint. Commemorative issue struck under Ptolemy IV, 221-205 BC. Bust of the deified Ptolemy III right, wearing radiate diadem and aegis; trident over left shoulder, middle prong ends in a lotus finial /

ΠTOΛEMAIOY BAΣIΛEΩΣ

, radiate and filleted cornucopia; ΔI below. Svoronos 1117; SNG Copenhagen 196; Künker 136, 765 (same obv. die). Near EF. Struck from fresh dies and free from usual die rust.
Ex Freeman & Sear FPL 12 (Winter 2007), no. 108.
Ptolemy IV struck an extensive series of oktadrachms for his father Ptolemy III, portraying him with the divine attributes of Helios (the radiate diadem), Zeus (the aegis), and Poseidon (the trident, the middle prong modified with the addition of the Egyptian lotus tip). The concentration of such symbols is intended to show Ptolemy III as the master of the three elements: heaven, earth and sea. The radiate crown above the cornucopia on the reverse is another distinctive feature of Ptolemy III's iconography, and was later adopted by his grandson, Ptolemy V.
Classical Numismatic Group, Inc.
Related posts:
The following two tabs change content below.
Latest posts by Antiochos (see all)