FYROM "Pressed For Name Settlement"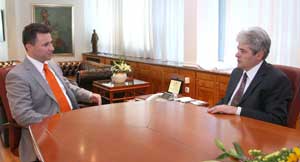 FYROM feels diplomatic pressure growing to resolve its name coming "from all external factors", the country's Prime minister Nikola Gruevski told press on Wednesday.
No deadlines have been set, he pointed out, but the messages are to find a compromise to its long-standing row with Greece "
as soon as possible
" Gruevski added. A quick settlement to agree on a name for FYROM will lift Greece's veto on the country's membership to NATO.
Gruevski said that FYROM's stance will be clearer once the UN mediator in the dispute Matthew Nimetz offers something new for consideration.
Media in both countries speculate that Nimetz is due to arrive in the region by the end of June after the European Parliament elections in Greece. Nimetz has not confirmed any visits.
US diplomats recently warned that to reach a speedy settlement both countries must restrain from involving other issues in the talks besides the matter of FYROM's formal name. The US is seen as a major catalyst in the efforts to find a solution.
Media recently cited unnamed sources saying that the
US would like to see the matter closed by this year's end
.
Last year Greece blocked FYROM's entry into NATO pending a solution to the dispute, in which Greece contests FYROM's constitutional name.
In his speech to Bosnia's Parliament this week, US vice President
Joe Biden once again stressed that the country will be granted accession the moment the row is resolved
.
Source: balkaninsight.com
Related posts:
The following two tabs change content below.