In 1715 was published in Paris a collection of memorandums by the title "Mouveaux memories des missions de la Compagnie de Jesus dans le Levant". Those contained accounts of Jesuite missionaries who went to Levant (among them Greece) and most of them took place in 1714.
One of these memos was written by Father Tarillon who visited Konstntinople, Smyrna, Thesalonike, Kavala, Thaso, etc. In reference to Thessalonike he wrote in his memorandum.
"The city of Salonica is one of the greatest and most famous cities of European Turkey. It has an eftapyrgion, meaning a castle with 7 towers, just like Konstantinoupolis. The number of Greeks is significant. There are also Armenian traders. All these Christians are not more than ten thousand souls. Jews are between ten to twelve thousands. They are infamous of being cunning. "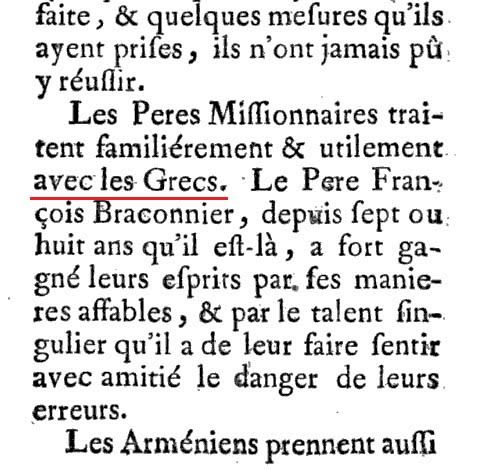 "The missionary fathers communicated with intimacy and beneficial with Greeks"
"Father [priest] Mathaeus Piperi made incursions to the Greek villages of Mt Olympos and the surrounding of Mt Pelion and Ossa"
TRANSLATION:

"…Its my duty to verify to you about the eagerness of Jesuits, for the sake of, MACEDONIA THIS NOBLE PART OF GREECE, which brings to memory, one so great idea, wont be late to…which St Paul inspired through his sweat and his epistoles to Thessaloniceans and Filippaeans"
Related posts:
The following two tabs change content below.
D-Mak currently studies History and Archaeology at the Aristotle University of Thessaloniki.